The Most Comprehensive Podcasting Course You've Been Waiting For Is Here
You want to start your own podcast, but you don't know how and where to begin.
While recording and publishing your own podcast may sound simple enough, there are actually a lot of things that happen behind the scenes.
Planning and creating content, editing your podcast audio files, marketing and promoting your show will take its toll on you if you don't know what you're doing.
Don't waste your time experimenting. Instead, follow the proven step-by-step blueprint that all successful podcasters use.
Let me introduce you to
Podcasting Profit Secrets
The Step-By-Step Guide To Launching a Highly Profitable Podcast To Build Your Brand And Sell More Products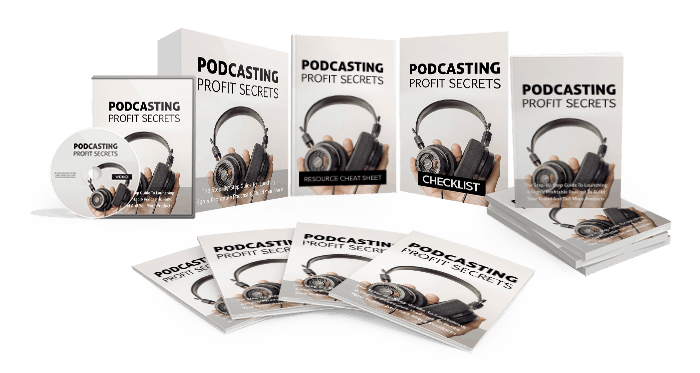 Podcasting Profit Secrets is a step-by-step blueprint for launching a profitable Podcast.
Here are just some of the things you'll learn inside this course:
The 4-step process to finding the perfect niche for your show (yes, it's extremely important you pick the right niche).
The one secret no one tells you about monetizing your podcast.
How to quickly get in the right mindset to start and commit  to your podcast.
5 of the most essential tools you need for podcasting success.
The right way to develop your podcast and establish yourself as a trustworthy expert in your niche.
The must use tools you need to organize your podcast content.
How to sound like a professional podcaster even though you're totally new to the podcasting game!
The not-so-widely known technique to cut down on your podcast editing time.
Why you should never upload your podcast files to your web hosting provider.
The top places where you can promote your show and grow your audience like a chia-pet.
How to attract the right advertisers to sponsor your show.
The skills you need to become an engaging podcast host!
Develop a powerful system to record, edit, and publish your episodes in a short span of time.
Find out how to never run out of topics or guests to interview on your show.
And so much more!
---
The 'Podcasting Profit Secrets Course' eBook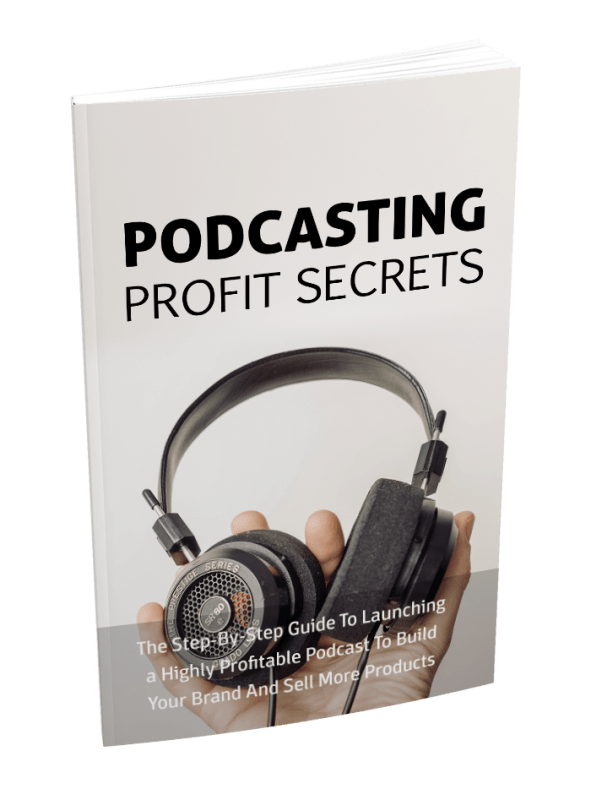 ---
You'll also be getting..
#1:  Point-By-Point Checklist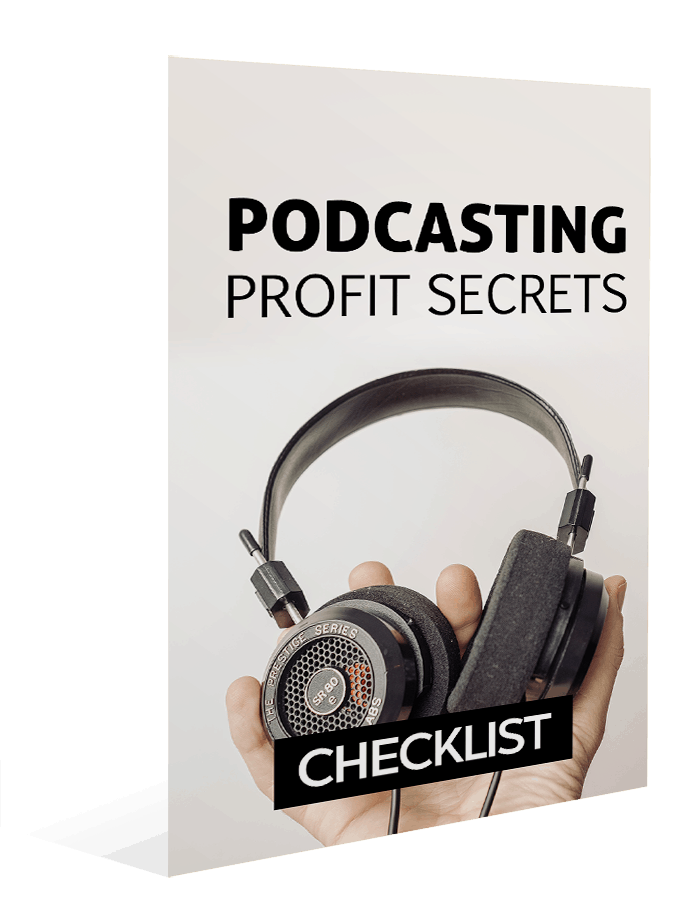 View or print this handy checklist so that you can check off each point.
It is like a summary of the entire guide but in actionable, bite-sized points so that you can successfully get through the course.
#2: Resource Cheat Sheet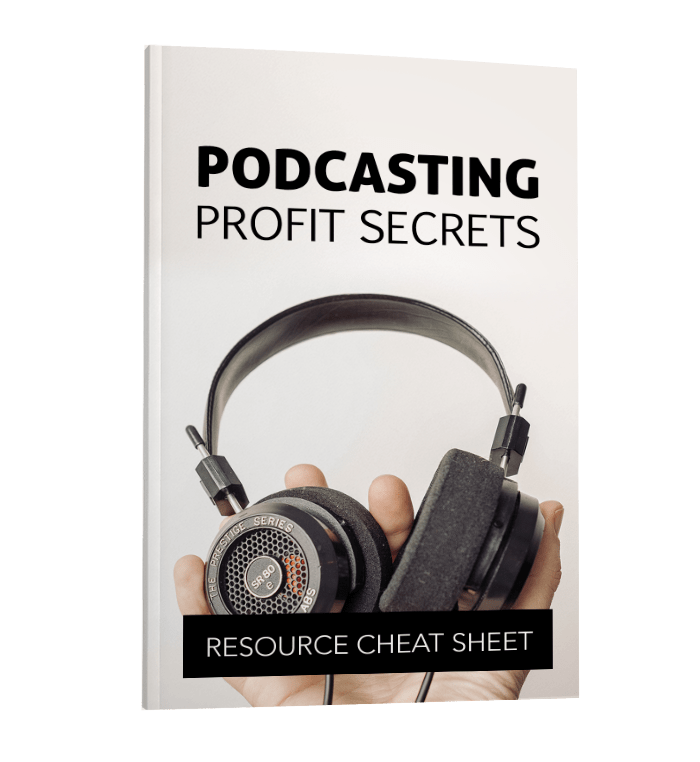 You'll also get access to a rolodex of top sites, blogs, forums, tools, apps and services to get you even further.
Inside you'll find:
Top blogs and forums
Top tools
Top tips and how to's
+ more!
Are You Ready To Start Your Very Own Profitable Podcast?
Then this course is going to save you so much of trouble and put you ahead of the curve immediately.
---
But, wait – I'm going to make this investment a a no-brainer for you. When you purchase Podcasting Profits today, you'll also get one of our hottest selling products that will give you complete Step-by-Step blueprint to launch your own YouTube Channel so you can take full advantage of YouTube to grow your Podcast.
YouTube Authority
Step-by-Step Blueprint to Start and Grow a Successful YouTube Channel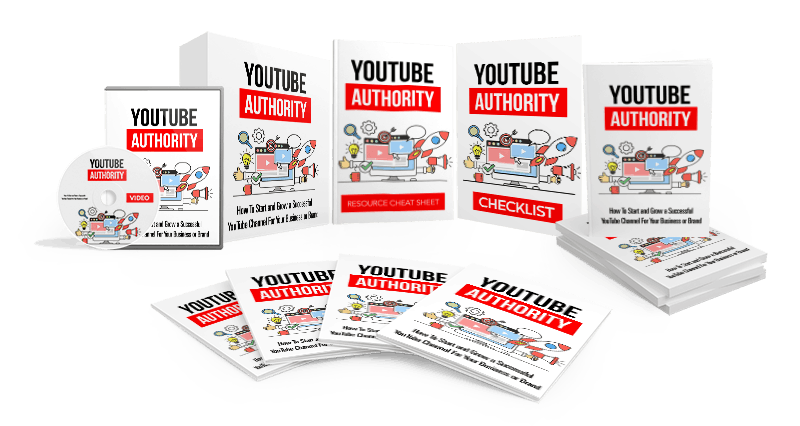 Here's what you'll discover in this guide:
Learn what it takes to get started on YouTube, including the equipment and software you'll need to produce your own videos.
You'll learn how to choose your niche and determine what kinds of videos you're going to produce.
Discover how to properly optimize your YouTube channel so that you can be successful on the platform.
Find out what you need to do to develop your content strategy and get started producing the videos your audience wants to see.
Learn some different strategies for building your audience on YouTube and gaining more views and subscribers.
Discover the strategies for increasing your customer engagement with your videos and YouTube channel.
Learn some of the different ways that you can monetize your YouTube channel and start making passive income.
Learn the mistakes to avoid making on your YouTube channel if you want to be successful.
Here's a snapshot of the chapters in the ebook, which also comes with Video tutorials
Due to the economic slow down, we're offering this package at a massive discount! You can get both these courses less than the price of one. Hopefully you'll take advantage of this offer.